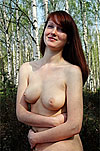 A present of values
Many today will tell you that beauty cannot be contrived, that it just is, that it is a miracle of nature, or a gift of God, or a lure of Satan for that matter. But while female beauty is the result of something spiritual, something unseen, something emotionally similar to religious ecstasy, imbued with the highest moral import - that thing is NOT incomprehensible or beyond our knowing. That something is: our chosen values.
Female beauty is the representation of our values. Whatever we've chosen to value in life, we find beautiful when present in a woman. Those who prefer to pretend that they too are a creation of forces beyond themselves, unable to choose or change, prefer images of women who appear as helpless, ignorant, and purposeless as they are. To them, beauty is a lack of values, so they prefer images in which values have been purposely left out, and they will praise today's gallery of Olga by Arkаdy Glυhіh for its innocent (meaning sexually ignorant), natural beauty. However, those of us who consciously choose our values will appreciate the values he has purposely put in, things like happiness, benevolence, confidence, innocence (meaning lack of guilt), composition, colour and pose.
Either way, female beauty is not a gift from God, but a present of values, a reward, if you will, for choosing or holding moral ideals, in other words, for being a good person. Beauty, or rather the ability to perceive it, is a gift we give to ourselves.
SAMPLE | JOIN | MEMBERS | MORE GALLERIES | LINK