SEARCH - ARCHIVES - GALLERIES - SUBMISSIONS - MAG RACK - LINKS - EMAIL - MEMBERS - WEBMASTERS - JOIN - About Us

---
October 7, 1997 - Kept out of school for drawing naked ladies...
---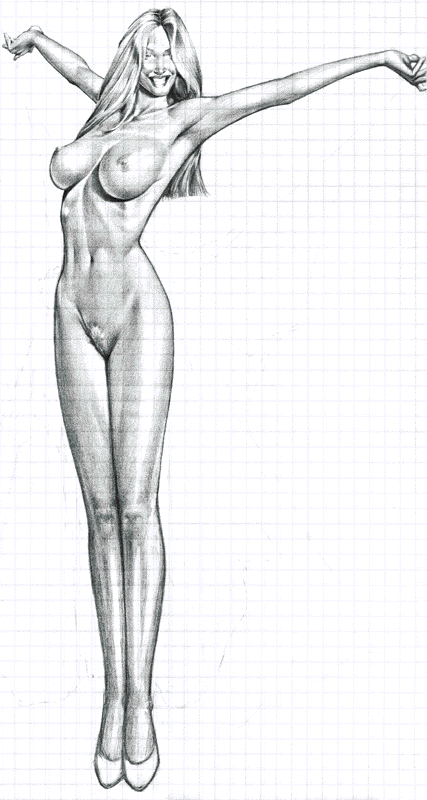 ...continued from October 5, 1997.
In those incapable of these emotions, however, such a picture inspires only hatred and hostility, perhaps because it reminds them of why they are incapable.
For example, I recently received just such a hateful response from Sheridan College when I applied to their world-famous Animation/Computer Animation department. My intention was to learn how to bring my drawings to life. They informed me that naked pictures of old or ugly people were welcome, but that my pictures were sexist and degrading to women.
As you can clearly see, the only difference between my pictures and pictures of fat, ugly women is that my subjects are beautiful.
I found it odd and of course very disappointing that a college of art would reject me not for my artistic ability but for my philosophical choices. The outright hostile, insult-riddled responses I received to my polite inquiries as to what, exactly, they meant by "sexist and degrading to women" were downright shocking considering they were coming from representatives of an institute of "higher" learning, people who should know only too well the dignified place the female fine art nude holds in man's cultural history.
The point here, as I'm sure you're wondering, is how far into our system feminist extremists have entrenched themselves, and perhaps more importantly, what they do with the power they've always wanted now that they've got it. They've always said their real purpose is the empowerment of women, but now we see the truth: their only real purpose has always been to empower themselves, so they can attack female beauty.
Copyright 1997 by Dwayne Bell
Feedback: dbell@bodyinmind.com

SEARCH - ARCHIVES - GALLERIES - SUBMISSIONS - MAG RACK - LINKS - EMAIL - MEMBERS - WEBMASTERS - JOIN - About Us